Here at Monmouthshire Windows, we know that buying an orangery or a conservatory is high on our customers' 'to buy' lists in the run-up to the glorious summer months. But we also know that, as the two host a lot of similarities, it can sometimes be confusing to tell the two products apart.
So, what is the main difference between an orangery and a conservatory?
The main difference between an orangery and a conservatory is the amount of glass coverage that is in the structure of each. A conservatory is a fully glazed structure often featuring a low brick base wall, whereas a real orangery is a grand structure that adds elegance to a property.
What is an orangery?
This is a question that we get asked, alongside 'why do they call it an orangery?' by a lot of our customers.
Between the 17th and 19th centuries, if you were wealthy and part of the fashionable elite, the chances are that you would have an orangery (or orangerie) within the grounds of your home somewhere. More often used for growing citrus trees, an orangery was used as a luxury nurturing ground and soon became viewed as a status symbol amongst the wealthy.
An orangery, with its dignified corner pillars and walls, boasts a flat solid roof with a central glass lantern. It has less than 75% of the roof glazed and less than 50% of its wall glazed.
We believe that there are 10 ways that an orangery can help you to enhance your home, from providing increased living space for all to enjoy through to more privacy. However, one of the greatest benefits of an orangery is its versatility – you have the option to either have your square or rectangular orangery as a standalone or for it to be built against the side with windows or a door into the house.
What is a conservatory?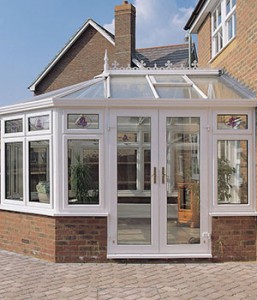 Until 2010 all conservatories had to have either glass or polycarb roofs, which is why most conservatories still have one of these materials. This meant that there were limitations on what conservatory roof materials were available to choose from.
Fast forward 11 years and there is a variety of roof options available for you, from glass conservatory roofs to tiled conservatory roofs.
Typically speaking, a conservatory has over 75% of the roof glazed and over 50% of its walls glazed. Therefore, when in comparison to an orangery, a conservatory has much larger glazed areas which really do allow you to welcome enhanced natural light into your home.
The structure of a conservatory is built against the wall of a house with a closing door or window, letting you seamlessly move from the rest of your house to your conservatory, and then onto your garden.
Here at Monmouthshire Windows the safety of our customers family is paramount which is why all our conservatories come with a multi-point locking system from Yale, the world's favourite lock company, which locks at multiple points along the frame giving you enhanced security.
As part of our conservatory range, you can choose from several different frame designs, making it easy to match your home's current aesthetics. From Georgian and Victorian, to Lean-To and P-Shaped conservatories, we make it easy for you to choose a conservatory that suits your style.
Made from high-performance uPVC, a conservatory from Monmouthshire Windows is unlikely to need planning permission provided that you do not live in a designated area or Area of Natural Beauty.
Or, even if you are an existing conservatory owner, we make it very easy for you to modernise your current conservatory with a lightweight conservatory roof. There are 5 stylish ways to revamp your old conservatory from letting the light shine through with an Atlas roof lantern to buying new rear entrance doors to make transitions memorable, the opportunities are limitless.
So, which one should I choose – an orangery or a conservatory?
With each one boasting individual benefits and advantages, it is purely down to personal preference as to which one you decide to buy. How about opting for a low-pitched lean-to conservatory for your bungalow, or adding an elegant orangery to your Victorian brick-built home?
Either way, whichever one you decide to choose you can rest easy knowing that you will receive exceptional customer service from Monmouthshire's leading installers of windows, doors, and conservatories.
Improve your home in South Wales with a conservatory from Monmouthshire Windows
With the warmer summer months looming around the corner, we are confident that you have thought about buying an orangery or a conservatory – a lot of our customers have!
So, if you are based in South West, do not delay – with over 15 years of experience in the home improvement industry, we are confident that we can help you. Contact us today or call us on 01291 430 353 and our experts will be on hand to help you.
Read our related blogs:
Pros and cons of roof lanterns
Do I need planning permission for a small conservatory?