French doors & Sliding patio doors in Newport, Cardiff, Chepstow, Monmouth & Bristol.
French doors are the timeless classic. They will complement all types of home and tastefully connect inside and outside living space.
One of the most stylish products on the market, sliding patio doors create a seamless link to your outside space. They are stylish enough to be a centrepiece for your home – not just a subtle feature. They provide huge glass areas and can therefore transform the look and feel of your living spaces – making them look and feel more spacious.
Both patio and French doors are an easy way to update the entrances to your home, making the general style of your property more aesthetically pleasing. They are perfect for bridging the gap between inside and outside areas, without compromising on the ability to let in more light and breezes or retain heat when needed.
French doors and Patio doors in uPVC & Aluminium customised to your home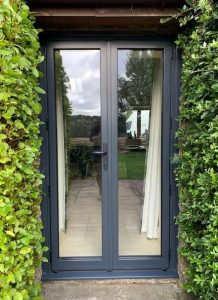 We offer both French doors and sliding patio doors, the latter being the ideal feature to add to conservatories or more modest entrances. It is sliding patio doors that can significantly enhance your living spaces with light, energy efficiency and style. It is no wonder that they are becoming more and more popular with homeowners! Here are the key differences between French doors and patio doors:
Patio: more contemporary looking, can hold large panes of glass, can feature sliding mechanisms and let in huge amounts of natural light into living spaces.
French: more traditional looking, often hinged and are relatively modest in size, so appropriate for even smaller properties or more awkwardly shaped configurations.
uPVC and aluminium sliding patio doors in Monmouthshire
The Monmouthshire Window Company offer quality patio and french doors in uPVC or aluminium. Either choice come with energy efficient double glazing and Yale locks as standard, but there are some subtle differences:
uPVC: highly cost-effective, quick to install, easy to match to different styles of property, many colour options
Aluminium: state-of-the-art design, suitable for wider openings and larger panes of glass, lasts for decades, different finishes available, slim sightlines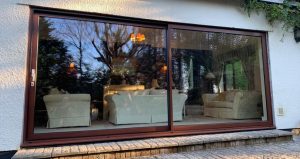 Benefits of patio and French doors from The Monmouthshire Window Company
Glazing from Europe's leading manufacturers of energy efficient glazing
Yale locking systems as standard
Available in uPVC & aluminium
Quick to install – reducing disruption to your life
Fantastic reputation across Monmouthshire – tradesmen you can trust
Experienced door installers in South East Wales
The Monmouthshire Window Company started trading in 2001 and continue to offer superb customer service and bespoke home improvement products across South East Wales.
Whether patio and French doors or other products in our range, customer satisfaction with both the installation process and finished product are our main priorities.