Modern conservatories for homes in Newport &Cardiff to Chepstow & Monmouth
Conservatories are becoming popular again thanks to modern materials that make them usable all year round. Gone are the days of stuffy rooms in Summer or giant fridges in Winter. With a conservatory from The Monmouthshire Window Company, you can make the most of your living space 365 days a year.
A uPVC conservatory that is low-maintenance and custom-designed
Living in Wales, you are probably familiar with the sudden changes in weather. Luckily, you can escape from the wind, rain, cold (and your neighbours) in a conservatory from The Monmouthshire Window Company.
Made from high-performance uPVC, our conservatories are weatherproof and thermally efficient. This means that they retain heat in Winter but stay cool in Summer, especially when combined with good quality glazing and are installed by a reputable company.
Modern uPVC conservatories also boast great security, heightened by good locking systems such as those from Yale. All conservatories from The Monmouthshire Window Company come with Yale locks as standard, giving you peace of mind that your new or updated living space won't be a point of entry for potential burglaries.
Double glazing to keep your conservatory a comfortable temperature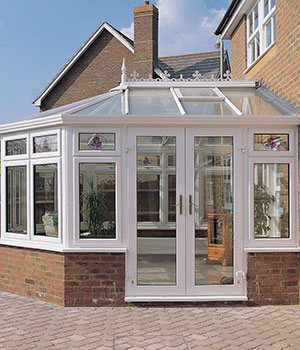 They aren't Europe's best-selling range of high performance low-emissivity glass for no reason – glazing options from Planitherm use the latest advancements in thermally insulating technology. This allows homeowners to retain vital heat in their homes, which helps to make continuous savings on heating bills (and the impact on the environment).
Planitherm glazing is also superb in terms of aesthetics – gone are misty, dirt-prone windows. The glazing stays clear and shiny for years to come, whilst simultaneously making your conservatory a comfortable living space to relax or entertain in. There are also options for self-cleaning glass, making maintenance worries a thing of the past.
A bespoke uPVC conservatory in Monmouthshire
As part of our conservatory range, you can choose from a number of different frame designs, making it easy to match your new or updated living space to the rest of your home or your own personality. We offer Georgian, Victorian, Lean to, P shaped, half brick or full height conservatories. All are available in a range of colours, making it easy for you to take creative control over your home improvements.
Why choose a conservatory from The Monmouthshire Window Company?
Easy to make an individual living space with choice of designs & colours
Europe's best selling energy efficient glazing as standard
Yale and Mila locking systems significantly increase security
Made-to-measure – we can build from scratch or update existing extensions
15 years of experience in the home improvement industry – we prioritise and succeed in delivering high quality products and fantastic customer service
FAQ'S about Conservatories from Monmouthshire Windows
What are the benefits of adding a conservatory to a home?
Adding a conservatory to your home brings numerous benefits. It provides additional living space that can be used for various purposes such as a relaxing lounge area, dining room, or home office. Conservatories allow ample natural light to enter, creating a bright and airy atmosphere. They also offer a seamless connection between indoor and outdoor spaces, allowing you to enjoy your garden or surrounding views. Moreover, a well-designed conservatory can increase the overall value and appeal of your property.
Are conservatories suitable for all types of homes?
Conservatories can be suitable for a wide range of homes. They are versatile structures that can be customized to match different architectural styles. Whether you have a traditional, modern, or period property, there are design options available to complement your home's aesthetics. It's important to consult with professionals who can assess your specific requirements and advise on the feasibility of installing a conservatory based on your property's layout and structural considerations.
What materials are commonly used for building conservatories?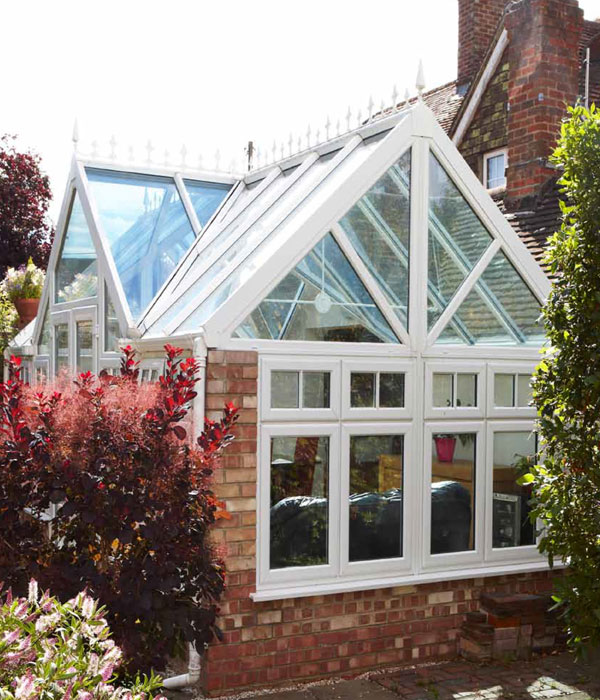 Several materials are commonly used for building conservatories. These include uPVC (unplasticized polyvinyl chloride), timber, and aluminium. uPVC is a popular choice due to its durability, low maintenance requirements, and excellent thermal insulation properties. Timber conservatories offer a classic and natural look, providing warmth and character to a home. Aluminium conservatories are known for their sleek and modern appearance, as well as their strength and resistance to corrosion.
Can a conservatory be used throughout the year?
Yes, a well-insulated and properly designed conservatory can be used throughout the year. To ensure year-round comfort, it's essential to consider factors such as efficient glazing, proper insulation, and adequate heating and ventilation systems. High-performance glazing options, such as double or triple glazing, can help retain heat during colder months while reducing heat gain during warmer periods. By incorporating effective insulation and heating solutions, you can create a comfortable space that can be enjoyed regardless of the season.
Do conservatories require planning permission?
In many cases, conservatories can be installed without the need for planning permission. However, certain criteria must be met to fall within permitted development rights. Factors such as the size, height, and location of the conservatory may affect whether planning permission is required. It's recommended to consult with your local planning authority or seek advice from a professional conservatory installer who can guide you through the planning process and ensure compliance with regulations.

Get a free quote