Bifold doors are growing in popularity thanks to their ability to create spacious, light living spaces without compromising on thermal efficiency or durability. To make your neighbours really envious, choose from our fantastic range of bifold doors at The Monmouthshire Window Company – we offer options in timber, modern uPVC and aluminium.
Bring the outside in
Bifold doors are an easy way to make the most of your internal and exterior living spaces. With large panes of glazing, you can enjoy the views of your garden or patio, without letting in draughts and Welsh weather. If we're lucky enough to experience some sun rays in Summer, then bifold doors can be easily opened to increase ventilation.
Their slimline design and ability to hold large panes of glass (especially when made from modern aluminium), means that the natural influx of light can be optimised in your living space. This can make your living room, kitchen or other room seem far more spacious.
Comfortable living spaces, 365 days a year
Thanks to the thermal efficiency of timber, modern uPVC or aluminium bifolds from the Smarts System, living spaces with bi fold doors can be enjoyed all year round, without the worry of draughts, leaks or being too stuffy or cold.
Equally, you can incorporate up to 6 sliding panels and choose which side you want the doors to open from, whether internally or externally. It is therefore easy to make bespoke bifold doors for your home, furthered by the fact that all of those installed by The Monmouthshire Window Company are made-to-measure.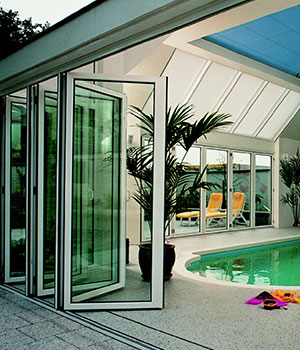 Why choose bi-folds from The Monmouthshire Window Company?
Available in state-of-the-art aluminium – the most durable material
Made-to-measure the dimensions of your living space
Easy to bring the outside in and make living spaces seem more spacious
Yale locks enhance security, making your home safer
Planitherm thermally insulating glass as standard – A rated for energy performance!
Reliable tradesmen with 15 years' experience
Highest quality products, prices and service
 Features & Benefits
High-specification & durable materials used
Suited to different styles of property
Increased energy efficiency – decreased energy expenditure
Range of colour and finish options
Choice of additional hardware – added decoration or security
Quick to install & easy to maintain
Want to know more?
Book a design consultation
Contact us today to book a Bifold door design consultation, so you can get the perfect door for your home.
More door products