Bifold doors in Monmouthshire & South Wales. We also serve Newport, Cardiff & Bristol.
Bifold doors are growing in popularity thanks to their ability to create spacious, light living spaces without compromising on thermal efficiency or durability. To make your neighbours really envious, choose from our wide range of aluminium bifold doors at The Monmouthshire Window Company.
Aluminium bifold doors in Monmouthshire
Bi-fold doors are an easy way for homeowners to make the most of your internal and exterior living spaces. With large panes of glazing, you can enjoy the views of your garden or patio, without letting in draughts and Welsh weather. If we're lucky enough to experience some sun rays in Summer, then bifold doors can be easily opened to increase ventilation.
Their slimline design and ability to hold large panes of glass (especially when made from modern aluminium), means that the natural influx of light can be optimised in your living space. This can make your living room, kitchen or other room seem far more spacious.
Double glazed bifold doors from Evaframe
Thanks to the thermal efficiency of our premium aluminium bifolds, living spaces with bi fold doors can be enjoyed all year round, without the worry of draughts, leaks or being too stuffy or cold.
Equally, you can incorporate up to 6 sliding panels and choose which side you want the doors to open from, whether internally or externally. It is therefore easy to make bespoke bifold doors for your home, furthered by the fact that all of those installed by The Monmouthshire Window Company are made-to-measure.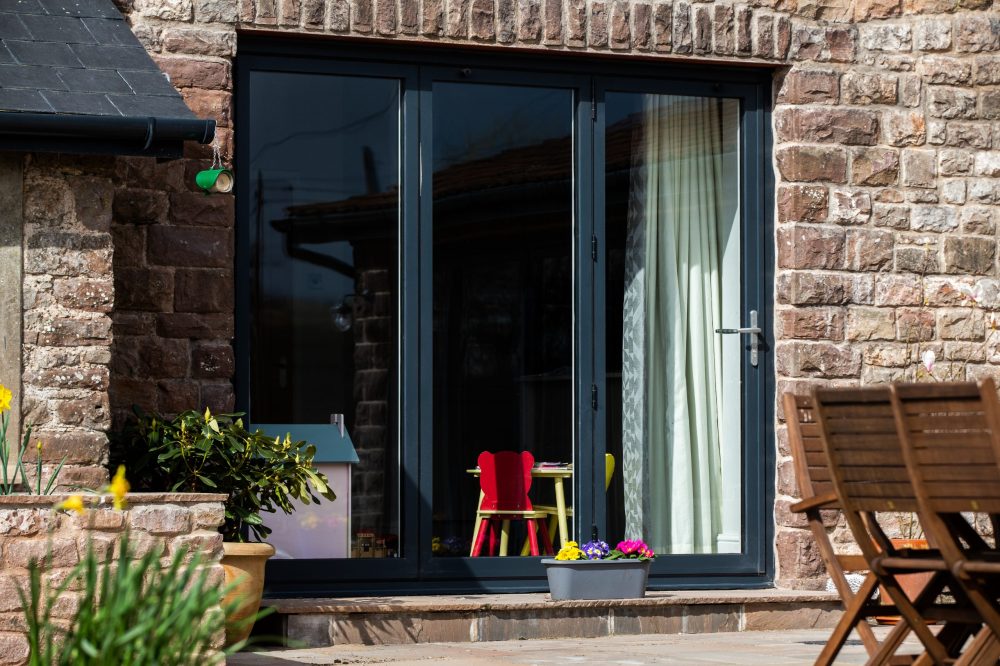 Why choose The Monmouthshire Window Company for your bifolds?
Available in state-of-the-art aluminium – the most durable material that will stand the test of time
Made-to-measure the dimensions of your living space
Easy to bring the outside in and make living spaces seem more spacious
Equipped with high security Yale locks, making your home safer
Planitherm thermally insulating glass as standard – A rated for energy performance!
Reliable tradesmen with 20 years' experience
Highest quality products, prices and service
Featuring slim aluminium profiles, to give your home a modern look
Frequently Asked Questions about Bifold Doors
by Monmouthshire Windows
What are bifold doors?
Bifold doors, also known as folding doors or sliding-folding doors, are a type of door that consists of multiple individual panels that fold or slide together to create a wide opening. This design allows for maximum natural light, ventilation and little maintenance while providing seamless access between indoor and outdoor spaces.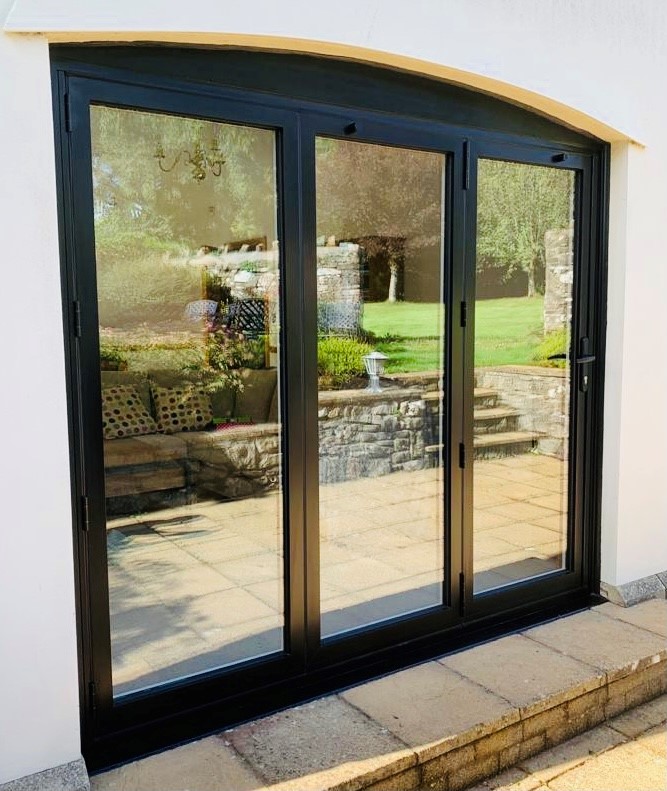 What are the advantages of bifold doors?
Bifold doors offer several advantages, including: – Space-saving: Bifold doors fold neatly against the wall, requiring less space when open compared to traditional swinging doors. – Versatility: They can be customized to fit various widths and heights, making them suitable for different architectural styles and sizes of openings. – Light and views: Bifold doors feature large glass panels that maximize natural light and provide expansive views of the surroundings. – Seamless transition: When fully opened, bifold doors create a seamless flow between indoor and outdoor areas, connecting them effortlessly. – Energy efficiency: Modern bifold doors are designed with high-performance glass and insulation, which help enhance energy efficiency and reduce heat loss.
Can bifold doors be installed in any type of property?
Yes, bifold doors can be installed in various types of properties, including residential homes, commercial buildings, and even extensions or conservatories. They are versatile and can be customized to fit different sizes and architectural styles, ensuring a perfect fit.
Are bifold doors secure?
Bifold doors can offer a high level of security when installed with appropriate features. Look for bifold doors that come with multi-point locking systems, toughened or laminated glass, and quality handles and hinges.