Composite doors in South Wales, Newport, Cardiff and Monmouthshire
Composite, otherwise meaning made up of two or more materials, gives you the benefits of multiple materials. The Monmouthshire Window Company's composites boast the combined performance of easy maintenance uPVC and strong insulating timber.
Composite front doors by Endurance Doors, Door Stop & Palladio.
The combination of innovative designs from our manufacturers and fantastic installation service from The Monmouthshire Window Company means that your composite doors will be something to brag about.
Their state-of-the-art design makes them the perfect door system for homeowners; they have Glass Reinforced Plastic (GRP) coatings and a polyurethane thermally insulated core. These factors make the doors durable, strong, secure and able to retain more heat in hallways or living spaces, especially when installed by reliable tradesmen such as those from The Monmouthshire Window Company.
A customisable front door in a range of composite colours
In addition to being some of the highest performing doors on the market, composites are available in a selection of colours and a range of styles. They also incorporate decorative glazing or hardware, such as chrome and silver handles.
The colours that we offer our composite doors in are: Rosewood, Golden Oak, Walnut, Irish Oak, Schwarz Braun Black, Raven Black, Rich Red, French Navy, Brilliant Blue, Racing Green, Chartwell Green, Anthracite Grey, Slate Grey, Elephant Grey, Sage, Duck Egg Blue, Pearl Grey, Cream, White and White Foiled.
If you're trying to decide who you want to install your brand new composite doors, here's why The Monmouthshire Window Company are the best choice:
Products from leading manufacturers across the UK
Diverse range of styles and colours to match the style of your home
Guaranteed thermal efficiency – reduce your heating bills!
Mix of materials for high security – combined strength of uPVC and timber
Make your new door individual – add decorative glazing or hardware accessories
Dedicated team of installers with 20 years' experience in the industry
Quick, easy and friendly order and installation service
FAQ Guide for The Our Composite Doors
What materials are used to create A composite doors?
Our composite doors are created using a combination of uPVC, steel reinforcement, and Glass Reinforced Plastic (GRP), which gives them a wood-grain appearance.
What are the key features of A composite doors?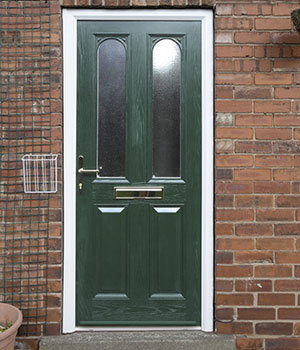 Our composite doors offer several key features. They are energy-efficient, weather-resistant, and meet British Security Standards. Additionally, they have a wood-grain appearance, various colour options, and customisable door furniture.
What are the benefits of A composite doors?
Our composite doors have several benefits. They are secure, low-maintenance, energy-efficient, and weather-resistant. The doors meet British Security Standards and offer a wood-grain appearance. With various customisation options available, you can design your dream door.
What other doors do you offer?
As well as our range of composite doors we also offer high-quality French doors, aluminium bifold doors and patio doors for properties in South Wales and beyond.