Bay & Bow windows in Chepstow, Caldicot, Monmouth, Abergavenny, Newport and the surrounding villages.
Bay windows are built into a property to project outwards from an external wall. Bow windows can be described as curved bays, and both styles add an attractive feature to the exterior of any property – if installed by The Monmouthshire Window Company – they can bring other benefits too.
Add value to your Monmouthshire home
Bay windows are a simple way to increase the influx of natural light into a room and give the impression of more space. Once installed, the new area created by a bay window is the perfect space for a nook or seating area and is made even cosier with a deep shelf that is low to the ground, like a bench. They can be used for reading, relaxing or just as a feature to make a room feel more spacious.
Cosy in Winter and easy to increase ventilation in Summer, bay windows are a great choice to optimise the use of your windows and living spaces all year round.
A+ rated double glazed windows in South Wales
Bay windows from The Monmouthshire Window Company use the reputable Rehau system. This guarantees homeowners low maintenance, efficient energy and added security, especially with the added Planitherm A rated glass and Mila locks that come as standard with all of our windows.
Our bay windows are created using casement designs – they are assembled with a strong structural bay pole or corner posts. This combined with the strength of modern uPVC makes your windows far more durable, lasting for decades rather than just years.
uPVC Bay and Bow windows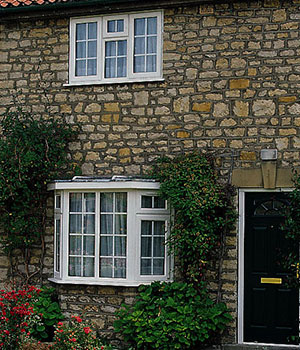 Traditionally found in any room in Victorian properties, bay windows today can add a touch of elegance to any property. Popular choices of placement are on the exterior walls of a kitchen or living room, but bay and bow windows can be installed anywhere.
Here at The Monmouthshire Window Company, we can install bay and bow windows in a variety of colours, so whether you want new windows for your lounge, kitchen or throughout your property, we make it easy to match the style of the bay to the rest of your home. Colour choices include traditional White, stylish Chartwell Green, contemporary grey, wood grain finishes and many more!
So for a truly updated living space and home, bay and bow windows from The Monmouthshire Window Company are an ideal choice, whatever style of property you have in the Monmouthshire region.