Aluminium Bay & Bow Windows: Elevate Your Monmouthshire Home
Enhance the curb appeal and functionality of your Monmouthshire residence with state-of-the-art aluminium bay & bow windows. The Monmouthshire Window Company, a trusted name in home improvement, offers a bespoke selection of these exquisite window styles, including the style of the bay, tailored to your needs—guaranteeing not just a visual transformation but also an upgrade in the comfort of your own property.
Aluminium Bay & Bow Windows: A Perfect Fit for Monmouthshire Living
Bay and bow windows are designed to protrude from the facade of your home, creating a distinctive feature that increases light entry and the feeling of space within. Aluminium bay and bow windows, with their sleek design and durability, are the perfect choice for adding a touch of elegance to any Monmouthshire property. These windows are a popular choice for placement on the exterior walls of kitchens or living rooms, but they can be installed anywhere to enhance the beauty and functionality of your home.
Bow windows, with their gently bowed shape, provide a softer aesthetic and a 180-degree angle that offers a wider scope of the outside world. Both styles are incredibly popular in Monmouthshire for their ability to merge elegance with practicality.
Aluminium Bay & Bow Windows: A Spectrum of Choices in Monmouthshire
At The Monmouthshire Window Company, we understand that every home in Chepstow, Caldicot, Monmouth, Abergavenny, Newport, and the surrounding Monmouthshire area has its own unique character. That's why our aluminium windows come in a vast range of colours, finishes, and double-glazing options to align with your home's architecture and your taste. From the sleek, modern grey to the classic white and warm wood grain finishes, our aluminium bay & bow windows will complement and enhance the front of your house.
As Monmouthshire's premier provider of replacement windows, we pride ourselves on delivering a high standard of service and a finished product that reflects our commitment to rated home improvements. Our energy-efficient aluminium windows, including double glazing, will not only offer an immediate visual uplift but will also improve the thermal performance of your home, ensuring a serene and comfortable living environment all year round.
Choose Monmouthshire's Best Experience with Aluminium Bay & Bow Windows

Selecting The Monmouthshire Window Company means choosing peace of mind. Our expert team brings years of experience to the table, ensuring that your aluminium bay & bow windows are installed to perfection. We are passionate about offering a wide range of energy-efficient products and leading-rated glass options that cater to the specific needs of our clients in Monmouthshire.
Discover the transformation that aluminium bay & bow windows can bring to your Monmouthshire home. Contact us today to find out more about our beautifully crafted windows that promise durability, low maintenance, and the best experience for homeowners in the region. Your journey towards a brighter, more spacious, and energy-efficient home starts with The Monmouthshire Window Company.
Have Questions About Aluminium Bay & Bow Windows in Monmouthshire?
Explore the world of Aluminium Bay & Bow Windows in Monmouthshire with our comprehensive FAQ guide. We're here to answer your most pressing questions and provide you with valuable insights into these stunning window options.
What are the benefits of aluminium bay windows?
Aluminium bay windows offer several benefits, such as enhanced durability, increased energy efficiency, and improved aesthetics. They are resistant to rust, rot, and decay, making them a long-lasting option. These windows also provide excellent insulation, reducing heat transfer and enhancing energy efficiency in your home. Additionally, aluminium bay windows have a sleek and modern appearance, allowing for larger glass areas and maximizing natural light.
Can aluminium bay windows be customized to fit my home's architectural style?
Yes, aluminium bay windows can be customized to complement your home's architectural style. These windows come in various designs, finishes, and colours, allowing you to select options that match your home's aesthetics. You can choose from different frame colours and finishes, glazing options, and hardware styles to ensure the windows blend seamlessly with your home's overall look.
Are aluminium bay windows secure?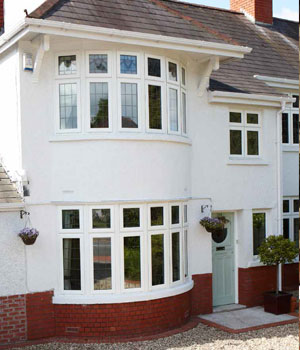 Yes, aluminium bay windows are designed with security in mind. They feature robust frames and secure locking systems to provide a high level of protection for your home. Aluminium, as a material, is inherently strong and resistant to forced entry. Moreover, these windows can be fitted with advanced security features, such as multi-point locking systems and laminated or toughened glass, further enhancing the security of your property.
How do I maintain aluminium bay windows?
Maintaining aluminium bay windows is relatively easy. Regular cleaning with mild soap and water, along with a soft cloth or sponge, is usually sufficient to keep them looking their best. Avoid using abrasive cleaners or rough materials that may scratch the surface. It's also advisable to inspect the window seals and weatherstripping periodically and replace them if necessary to ensure optimal energy efficiency.
Can aluminium bay windows help reduce outside noise?
Yes, aluminium bay windows can help reduce outside noise to a certain extent. The combination of durable aluminium frames and double or triple glazing helps create a barrier that minimizes sound transmission. For even better noise reduction, you can opt for windows with thicker glass or specialized acoustic glazing, which further dampens external noise and enhances the acoustic insulation of your home.