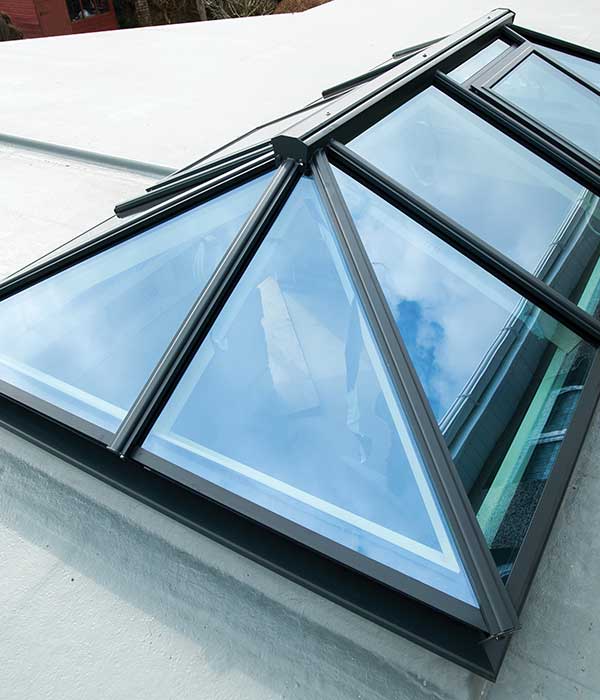 Whether looking for an alternative to a traditional conservatory or to boost the amount of natural light in a home, roof lanterns have become a popular home improvement over the past few years. Not sure if a roof lantern is for you? What are the positives and negatives for considering this for your home? Well, you've come to the right place! But first, what exactly is a roof lantern?
What is a roof lantern?
A roof lantern is a glazed architectural structure designed to boost a room's natural light. Their origins are rooted in 16th century Renaissance architecture. From their leaky wood-frames in the 18th and 19th centuries to the aluminium and uPVC frames of modern times, roof lanterns have seen constant adaption and improvements over the years.
Today, roof lanterns are a stunning focal point to an orangery or a flat roof structure, bathing a central island in a kitchen or a dining room table in natural light. They're also considerably sturdier and weatherproof than their predecessors. The roof lantern is available in a variety of configurations, but the most popular style is an elongated pyramid shape. The glazed roof's contemporary aesthetic makes the roof lantern suitable for a range of living spaces and homes.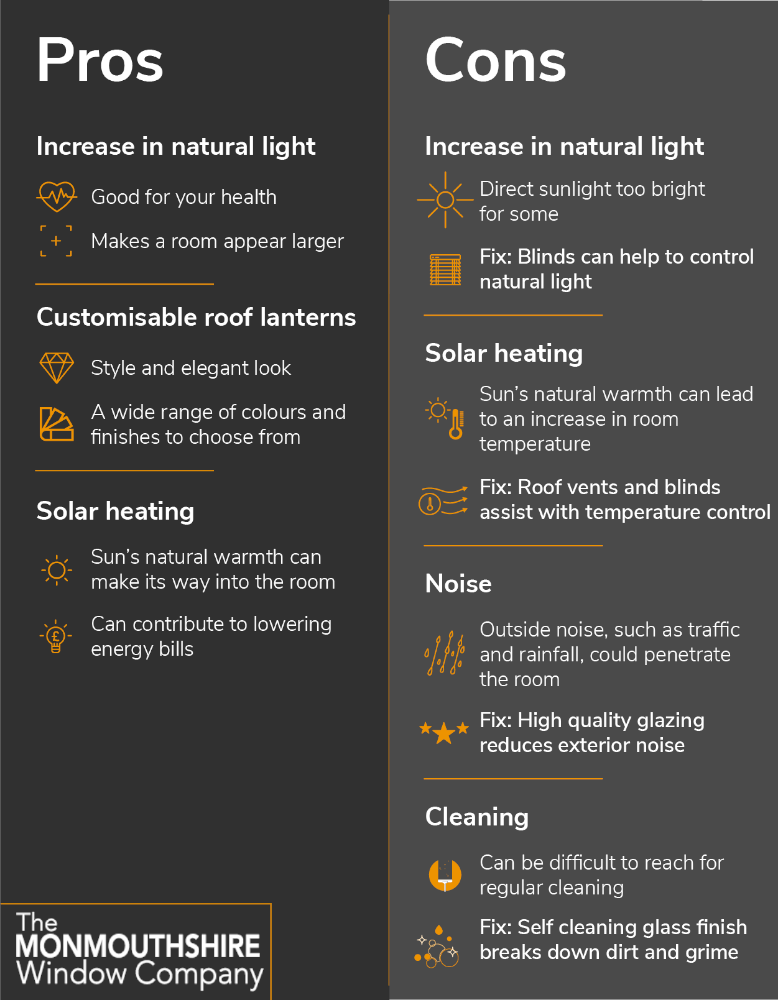 Pros
Increase in natural light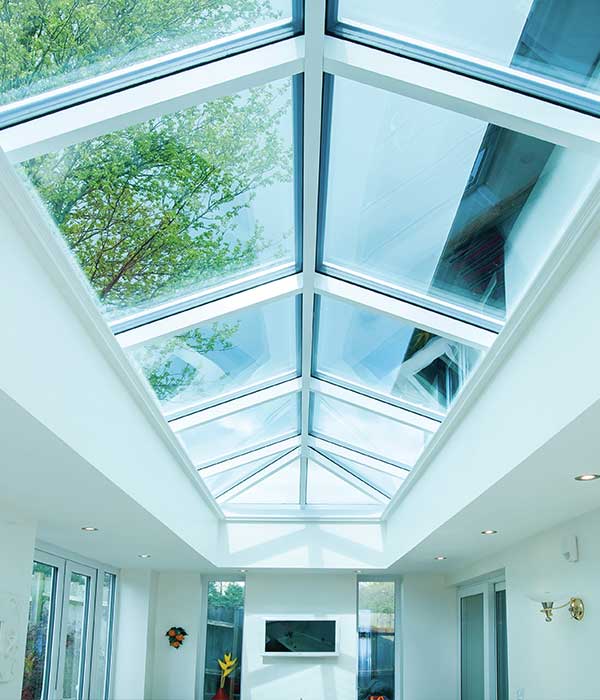 A room soaked in natural light isn't only good for your health, it can also appear to be larger than a dark equivalent. Atlas roofs, like the ones we install here at Monmouthshire Windows, offer 70% slimmer sightlines than alternative options, meaning more sky and less roof. These slimmer frames don't mean that the roof lantern is weak.
These roofs feature an aluminium frame, a material known for its robust and durable natural characteristics. Independent tests found that Atlas offers the best strength and performance in the UK domestic conservatory market (excluding the addition of bolster bars).
Customisable roof lanterns
They look beautiful in pictures but are truly breath-taking when you see them in the flesh. Atlas lantern roofs are stylish and elegant and can be customised with contemporary or traditional finishes. Choose your ideal colour from a diverse colour palette. You can even pick a colour for the interior and a different colour for the exterior.
Solar heating
The vast expanses of glazing can often allow for solar heating in winter in colder climates, perfect for UK homes. Small amounts of the sun's warmth can penetrate the room and can often contribute towards lowering your energy bills.
Cons
Increase in natural light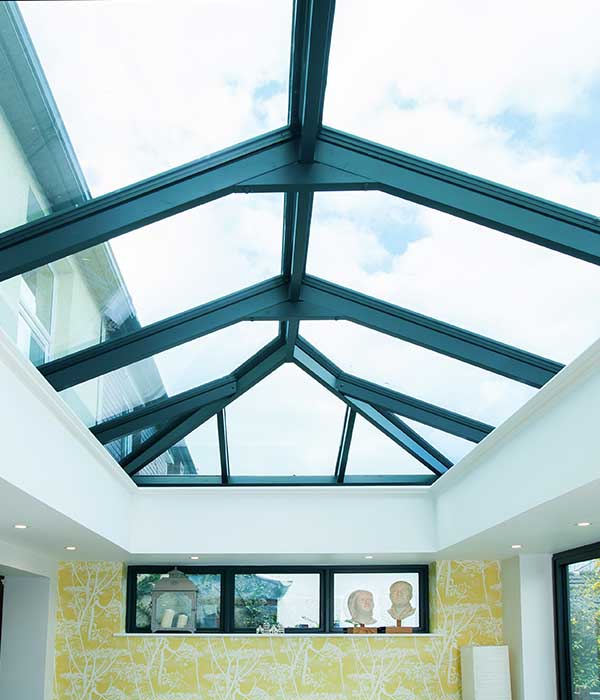 Lashings of sunlight on a bright day can be a pro but also a con for some, but don't let this be a deal-breaker. Blinds can be installed under the roof lantern to give you the choice to block out the sun if you'd like.
Solar heating
Another point that can be a pro and a con, solar heating can make the room considerably warmer in the summer months. Like most of the problems with roof lanterns, it largely comes down to the build quality. Atlas roofs come with specialist glazing that reflects heat as standard, reflecting up to 78% of solar heat.
Roof vents can be integrated into the structure for increased temperature control, without sacrificing any thermal efficiency. Blinds would also block out the sun's warmth and help maintain a more comfortable temperature.
Heat loss (in the winter)
Historically, glazed extensions such as conservatories have gained the reputation of being too hot in the summer and too cold in the winter. Modern glazing has seen radical improvements and started to shake this historic view, which is also the case with the roof lantern. An object ability to retain heat is most commonly measured by U-value. The lower the value, the better an object is at retaining warmth. The overall U-value of the Atlas roof lantern can be as low 0.7 W/m²K, which up to 3 times as thermally efficient as its nearest competitor, creating a space that can be enjoyed all year-round.
Noise
A roof lantern's design features a large amount of glazing which renders them vulnerable to outside noise, such as traffic or rainfall. However, modern-day manufacturing has drastically improved the performance of the glass used to make up the roof. Like with windows, the performance of a lantern roof will depend on the quality of the glazing used. The glazing used in the Atlas roofs provides outstanding thermal insulation and reduces exterior noise.
Cleaning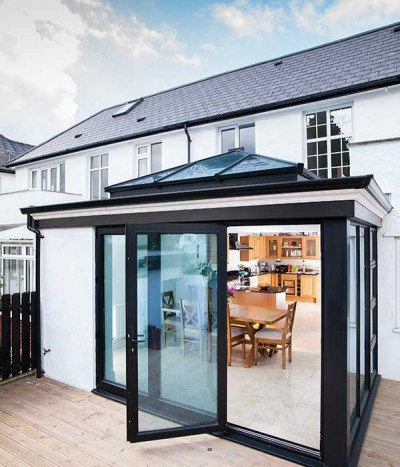 In many cases, lantern roofs are installed in a place that can be difficult to get to. With the Atlas roof lantern, the glass is fitted with a self-cleaning coating as standard. This coating uses UV light from the sun to break down dirt and grime, which gets washed away when it rains making maintenance a considerably easier job.
Roof lanterns in Newport, Caldicot, Raglan and beyond
For information about our roof lanterns, or other home improvements including windows and doors, give us a call on 01291 430 353, contact us online or visit our showrooms.