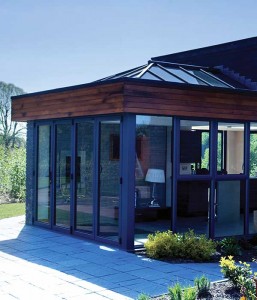 If you were an early adopter to the big conservatory boom that occurred a couple of decades ago, it's highly likely that you're a homeowner who frequently suffers from many of the drawbacks that can often arise with an old conservatory. At The Monmouthshire Window Company, we don't think it's fair that more contemporary home extensions get to have all the fun, so we've put together a list of methods and practices you can take to revamp your old conservatory.
1. Lift the lid and add a Supalite tiled roof
A personal favourite amongst our range, Supalite tiled roofs are an ideal method of modernising a dated or old conservatory that is desperate to boast a great sense of style as well as retain heat. An eclectic choice of tile and slate colours makes it easy for the system to seamlessly integrate in with the existing character of any home, being surprisingly quick to install to never cause disruption.
2. Let the light shine through with an Atlas roof lantern
If enclosed tiled roofs aren't your thing, rest easy knowing that we also offer a fully glazed alternative which lets the light shine in in the form of an Atlas roof lantern. A high performance skylight that makes the most of crystal clear glazing, the influx of more light works well to completely reinvent any old conservatory, giving the impression of a brighter and more specious living space.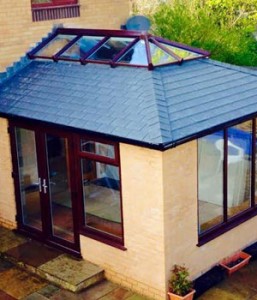 3. New rear entrance door styles to make transitions memorable
Whether you opt for a smooth sliding patio door, effective but compact bifolding door, or an elegant and classic French door design, swapping out your old conservatory's existing doors for some stylish and efficient replacements can completely revitalise how you interact with your extra living space. There's no need to be unhinged with our selection of styles, all available in state-of-the-art aluminium.
4. Bored of White? Add attractive coloured windows
While White in certain properties works well and can result in quite an elegant look, the colour customisability found in our range of products means choice in no longer limited. From the boldness of Deep Red to the calm charm of Chartwell Green, fitting new windows in your old conservatory will give it a new lease of life by looking as bold or as subtle as you'd like.
5. Aluminium products that add a layer of modernity
Almost all of the stylish conservatory enhancements we've listed above come readily available in highly durable, sleek, and robust aluminium material. By far the most contemporary home improvement material of choice, aluminium windows, doors, and skylights are long-lasting and resistant to weather representing a sound investment that will last many decades.
Breathe new life into an old conservatory with help from our team
Don't settle any longer for the dilapidated look your old conservatory might be at risk of boasting, especially if you continue to use the space consistently. For more information on our services, feel free to call our team on 01291 430 353 or contact us online.