Are you looking to improve the look of, or even sell your home? If so, choosing the correct colour for your windows and doors might be more important than you think. According to some estate agents, colour choice can make a really big difference. Sprucing up the appearance of your home by changing your windows and doors, really can add £'s to the value of your property. Read on, to get some valuable advice about how to get colour to work for you and your home.
Window and Door Colours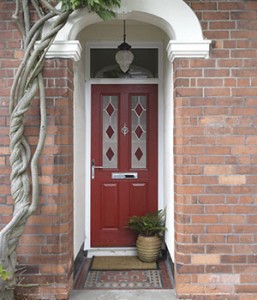 When choosing your new exterior windows or door colour, remember to keep in mind the colour of your brickwork. If your brickwork or rendering is light, try to avoid pastels as they can often look pale and washed out. Likewise, if your brickwork is darker, try to steer away from dark reds or blues.
The colour you choose can also create certain perceptions.  Active colours are warmer and brighter and are more likely to create a feeling of energy. Active colours range from vivid reds and oranges through to bright yellows and light greens. Passive colours are cooler and create a calming effect, and are your rich burgundies, purples, blues and subtle greens.
White evokes an image of cleanliness and simplicity, a classic choice that never dates. Likewise, black is a timeless colour, that can add glamour to your front door, especially if you choose a shiny veneer. Violets and purples are often associated with luxury. However, when selecting your colour or shade choose carefully as it can be a fine line between sophistication and garishness.
Location, Location, Location
According to some estate agents, your choice of door and window colour should be sympathetic to your location. If you're a city dweller, pastels are a good choice, whereas if you live near water, pick shades of blue. For country dwellers, natural wood or wood effect is best.
Entrance Doors
Your front door is arguably the first thing people see, and what better way to enhance the kerb appeal of your home by choosing a new front door in an exciting colour? Traditional colours such as black, white, blue, red, and Chartwell Green are always popular choices. However, if you want to make a statement, why not consider choosing poppy red, duck egg blue or black-brown?  Entrance doors are available in a variety of materials, with each material being energy-efficient, secure and durable. uPVC, timber, aluminium and composite doors are all available in different design styles and are customisable through a range of colour choices and finishes
Windows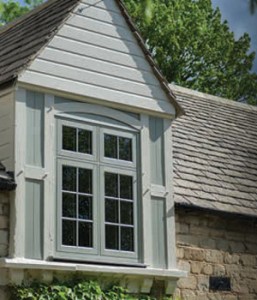 Windows could be described as the "eyes of your house", allowing you access to view the inside and outside of your home. Modern windows are available in a variety of styles and materials, uPVC, uPVC wood effect, timber or aluminium. Each type is easily customisable with colour for that modern, bespoke look, without compromising on safety, energy efficiency, thermal insulation or ease-of-use maintenance.
Are you interested in replacing your windows or external doors? Whether you want uPVC, composite, aluminium, or timber, The Monmouthshire Window Company's windows and doors come in a variety of finishes and colours. To find out more, contact one of our professional team members by calling us on 01291 430 353 or by getting in touch online, and we will be delighted to help.