If you're in the market for new doors that lead out into your garden, you've probably come across a style of door known as a bifold door. It can be hard to decide on the type of external door you want for your home, and between bifold doors, patio doors and French doors it can be pretty overwhelming to try and remember all of the information you need. Today we'll be breaking down what a bifold door is, how they work and why they're an excellent addition to almost any property.
Explaining what a bifold does
A bifold door stands out amongst other garden door options because of its unique opening mechanism. Multiple frames of glass fold in on one another when the door is moved in a certain direction, and then unfold again when going the opposite way. In contrast to other garden doors, like patio doors that simply slide or French doors that open outwards/inwards on hinges, the bifold door draws attention like no other.
How does a bifold work?
Now that we know that bifold doors fold back on themselves to create an opening space, it's important to understand how this process works. Bifold doors are fitted to runners, which helps them slide and fold simultaneously without any hitches. A lot of bifold doors have a conventional door built into them, which uses a normal hinge and lever handle, allowing you to get in and out without sliding the whole bifold door across the runners.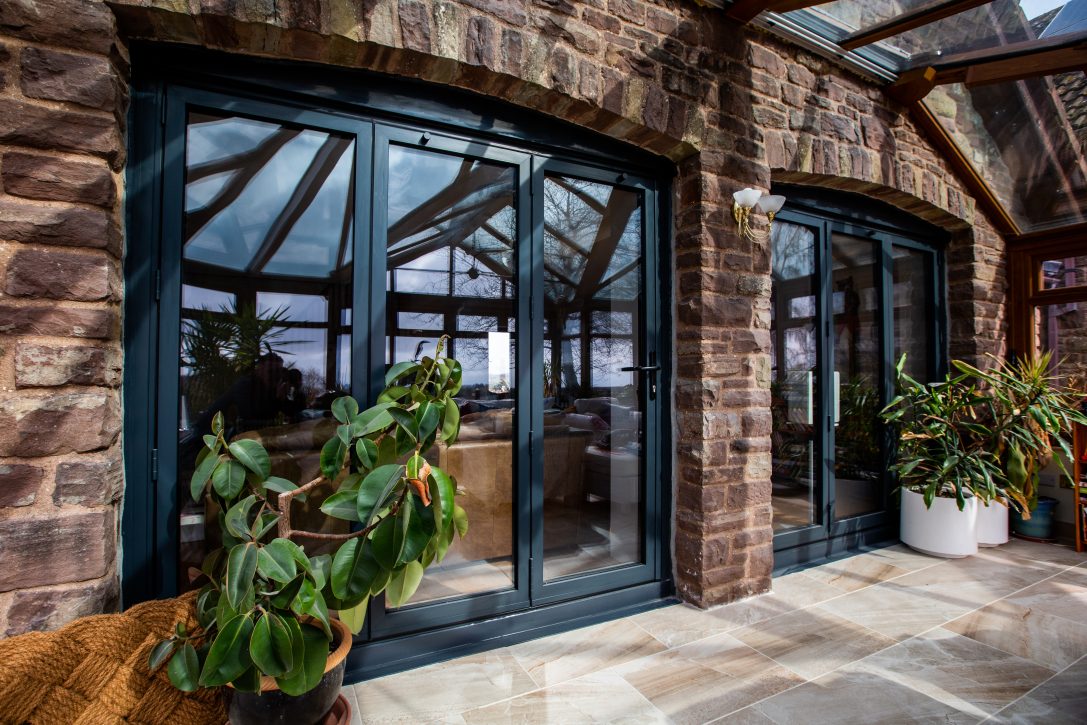 What are the benefits of a bifold door?
One of the biggest draws to bifold doors is the amount of space and light they allow for. Because of their folding opening system, they don't encroach on your interior space, and thanks to the fact a lot of their surface area is glass, they allow for plenty of sunlight to come in, whilst ensuring you have an unobstructed view when looking outside.
Not only that, but bifold doors are extraordinarily efficient, ensuring your adjacent living space can be enjoyed all-year-round without worrying about things like draughts and leaks.
Bifold doors in Monmouthshire, Bristol, and many more places
Bifold doors from Monmouthshire Windows are available in one of three material choices. Whether you're looking for bifold doors made of timber, uPVC, or aluminium, we specialise in providing high-quality home improvements, brought to you by a team of professionals. We also offer a range of other doors, as well as windows, conservatories, and tiled conservatory roofs. If you're interested in any of our home improvements, don't hesitate to get in touch or get a quote today!
Related blog posts: