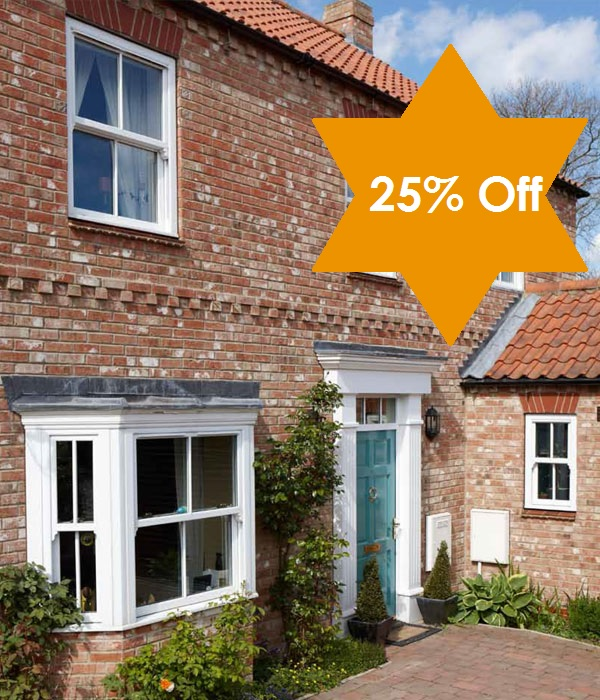 An offer that most homeowners won't be able to refuse
Monmouthshire are proud to offer to any homeowners who order our high quality triple glazing services 25% off of their order, making the allure of triple glazing much more appealing. We at Monmouthshire Windows recognise that for many, the biggest barrier for entry for many homeowners is price, our brand new offer now removes this factor – allowing all to reap the benefits of triple glazing at just a fraction of the normal cost!
A whole host of benefits to result in more comfortable living
It may be surprising for many to realise what difference an additional third pane within a window's frame can actually have to the home. With triple glazing it is almost guaranteed that your home will be warmer, quieter and safer against any unwanted noise, cold and intruders. As well as a simple pane, our triple glazing service makes use of argon gas within the space between. This acts as a much heavier alternative to air, more efficiently blocking out noise as well as cold breezes.
The Monmouthshire Window Company's triple glazing can easily achieve a Window Energy Rating of A+, meaning that your home will be able to run at the peak of energy efficiency. Triple glazing is also now highly appreciated and sought after within the modern house market, being a significant investment for any current homeowner who'd like to increase their home's value. It's considered by many as a worthwhile futureproof venture.
Take your double glazing to the next level
If having 25% off of your triple glazing order wasn't enough, you'll be pleased to know that triple glazing
essentially heightens the benefits of double glazing by almost half. With ultra low U-values as low as 0.8W/m2K and exceptionally impressive acoustic soundproofing from any unwanted noises, it's safe to say that triple glazing takes what double glazing achieves to the very next level.
Insulating other areas of your home, such as the floor, walls and roof can help improve warmth, but neglecting your windows can result in cold spots, draughts and condensation. That's why Monmouthshire's Triple Glazing is designed to provide the very best in thermal insulation, keeping your home warmer and even saving you money on heating bills as a result.
Highly effective triple glazing from Monmouthshire Windows
Operating out of Monmouthshire for almost 15 years, we at The Monmouthshire Window Company are excited to offer our customers an affordable entry point to triple glazing. Never before has it been easier to upgrade, so why not make it now? To find out more about the offer or how triple glazing can enhance your home, call us on 01291 430 353 or enquire for free online!