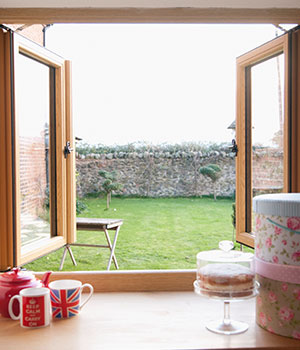 If you're a homeowner living in a heritage home that carries more than a little history behind it, it's highly likely that you're still sporting the property's original timber windows, missing out on all modern window performance benefits despite a great visual style as a result.
At The Monmouthshire Window Company, we're confident that we have the solution to this very problem, in the form of Residence 9 – a familiar name within the window industry and the ultimate in traditional authenticity and modern performance!
Modern performance wrapped in aesthetically authentic uPVC
Specifically designed to replicate the authenticity and craftsmanship found within original timber casements and sashes of the 18th century, the R9 range of timber effect windows are capable of providing traditional/heritage homes with the practical advantages of modern uPVC, whilst retaining the much coveted elegant look.
Balancing the perfect combination between high performance uPVC and highly detailed grain-effect finishes, it's highly unlikely passers-by will be able to tell the difference between your original timber windows and the R9 flush sash replacements. Performance improvements include, a 9 chambered profile to help better retain heat, internal beading and glass bonding to resist force and many, many more.
Unlike other timber effect windows, the R9 range acknowledges existing conservation guidelines, making them great for those residing in conservation properties as a result. Rather than risking choosing windows that may or may not meet the required standards, choosing R9 greatly increases the likelihood of windows being accepted for listed properties.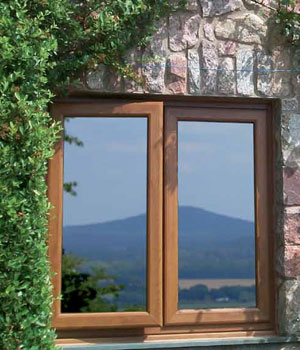 Traditional or contemporary – Any house style will benefit:
Traditional mechanical joints and sight lines for authentic visuals
9 chambered frame for the ultimate in warmth and thermal efficiency (A+ rated)
Low maintenance and hassle-free with all the looks of original timber
Astragal bar configurations for personalised authenticity
Mixed colours/dual finishes for varying exterior and interior styles and mood
Glass bonded & internal beaded for safety and security against intruders
Hand made in the UK helps to add charm and elegance
No more draughts, no more cold spots
R9 timber effect casements are thermally and acoustically brilliant, impressively looking like the original design whilst never warping, swelling or cracking. A common fault found with traditional flush sashes would often be rattling, itself caused by letting in outside air that could also create draughts. R9 eradicates this possibility thanks to 9 chambered uPVC profile that better traps heat within the home.
There really is no excuse to suffer from a cold home nowadays, R9 is the perfect combination of traditional visuals and 21st century performance. Rooms will feel more welcoming and inviting, with homeowners knowing that each new-entered space will be as warm and comfortable as the last.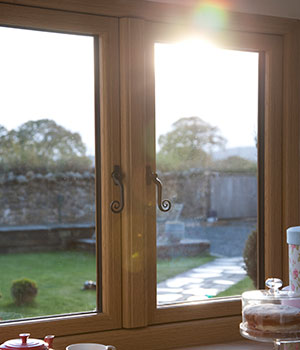 Miniscule elements for undeniable authenticity
So it's a given that opting for R9 timber effect windows guarantees excellent thermal and acoustic insulation, but what makes them look so darn good? As with most things in life, the devil is in the detail.
Each Residence 9 window is hand crafted by a skilled professional to provide a quality that assembly lines simply cannot attain. Whether it's through any one of our range of period handles including the classic peardrop design, authentic astragal bar patterns or the authentic mechanical joints integrated within the frame, an effective heritage-style window is always achieved with R9!
Monmouthshire: Enhancing heritage homes for the better
The Monmouthshire Window Company have been helping both classical and contemporary homes achieve a better sense of elegance with added performance via our range of timber-effect R9 windows for over 15 years. If you live anywhere in South Wales and want to find out how you're home could benefit, reach us on 01291 430 353 or get in touch online.