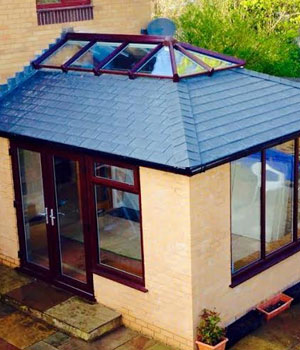 If you're in agreement with the band Wizzard in the sense that you wish it could be Christmas every day, you better make sure that your home's conservatory is sufficiently Winter-ready with a new thermally insulating tiled roof solution, being ideal for locking in the heat and keeping the family comfortable during the festive period.
With the nights getting darker and the breezes ever so subtly becoming colder with the Winter season swiftly approaching, there's still plenty of time to upgrade your extension with a new tiled roof from our range. Once installed we're confident that you'll instantly be able to enjoy its stylistic benefits, as well as the thermally insulating ones. It's snow joke, ensure your home is Christmas ready today!
Preventing Jack Frost from nipping at your nose as well as your energy bills!
When choosing Monmouthshire Windows as your chosen installer for a new tiled roof replacement, you can rest comfortably knowing that our team makes effective use of what's known as Supalite, an extra lightweight tiled roof system that looks just as good as it performs. Boasting the appearance of traditional slate tiles, underneath the tiles are plenty of extra insulation layers and a 'breathable' membrane which makes optimising energy efficiency a breeze.
A more energy efficient conservatory is a warmer conservatory, not only serving to tempt you back into your now-comfortable and warm home extension but also having a positive impact on your home's energy bills. Because heat will be more easily trapped within the roof of your conservatory, you'll be less inclined to turn on your central heating allowing you to reap the financial rewards in the long term.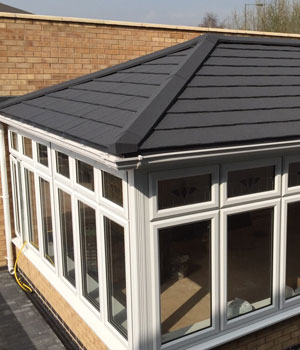 Temperatures that ensure you never roast like chestnuts on an open fire
To save you becoming too hot and bothered from all of this extra natural heat now being able to be retained in your home, rest comfortably knowing that every Supalite roof that we install implements effective temperature balancing techniques to ensure that when the kids creep down to glimpse their presents on the early Christmas morning, the space will never be too hot or cold.
Purely from a visual aesthetic perspective, a new tiled roof replacement for your home is always able to create a picturesque result too. A choice of three distinct colour tones (Ember, Charcoal & Walnut) allows your new roof to tie in seamlessly with your property's existing outward appearance so that when the snow begins to fall, it settles nicely on the top of a high performing and visually pleasing roof design.
Monmouthshire Windows: Helping you get set for the festive season
Give yourself the gift of a warmer conservatory extension just in time for the Christmas season, you'll be reaping the rewards for many years to come with the Supalite roof expected to stay effective for up to 60 years. For more information on how a replacement tiled roof from Monmouthshire Windows is the perfect early Christmas present, call us on 01291 430 353 or send us a message online.