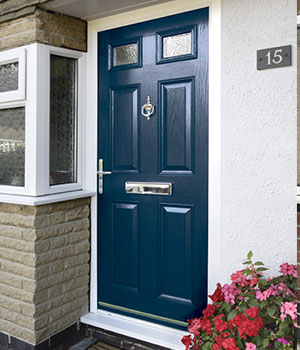 It's been a well-known fact amongst knowledgeable homeowners for a while now that composite doors are unparalleled in terms of their aesthetic style, thermal performance and all round design, but it might just shock you just how many unique design options are available – especially in terms of colour!
Not only are our range of composite doors strong, secure and durable, but they greatly allow room for homeowners to get their creative juices flowing, successfully making your home more distinct to really get your neighbours talking.
Vibrant composite doors that help make a great first impression
In some ways, your choice of entrance door is one of the most important home improvement decisions you can make, it's the first thing both you and your house guests notice and as such it's crucial to get it right first time. Whilst our composite doors never fail to catch the eye of passers-by thanks to their natural authentic beauty, but now with the introduction of thirteen unique colour tones on offer, this fact is now a definite rather than maybe.
A choice of thirteen distinct composite door colours suitable to any style of home
Regardless of the style your current home exudes, be it contemporary or traditional one of the available thirteen colours will perfectly compliment your home's visual personality. The door can be as individual or as subtle as you like. Three new door colours; Poppy Red, Duck Egg Blue and Black Brown, have add to the previously existing ten; White, Black, Blue, Red, Green, Oak, Darkwood, Cream, Grey and Chartwell Green.
All of this level of customisation is still available whilst maintaining the high level of thermal efficiency and heat retention modern homeowners expect. It's also possible to modify and customise various glazing and hardware styles, which further influence the outward appearance of your home's front.
Colour all round: No aspect is forgotten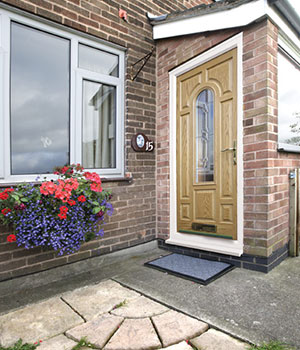 Unlike most other rival home improvement companies that fail to colour every single aspect of their composite doors, we at The Monmouthshire Window Company are proud to offer are whole range with the option of all round colouring. This means that co-ordinated details such as the door's threshold, frame, door drip and edges all suitably match, feeling like a much more seamless part of the home.
Customisable composite doors from Monmouthshire's favourite installer!
Operating throughout the entirety of South Wales for well over 15 years, our three fully-trained fitting teams have more than enough knowledge and experience to ensure that your new coloured composite door will be fitted to the highest degree possible. Don't settle for anything less than the best, and make a true style statement with our range.
To find out more about how our coloured composite doors can help enhance the front of your home, call us on 01291 430 353 or send us a message online today.