Quite impressively in recent years aluminium has taken the UK housing market by storm, becoming a staple material often found in most homes all over the world. Offering homeowners the very best in terms of style, performance and light entry, it's not surprising that many people continue to be tempted by the prospect of aluminium windows and doors to brighten up and enhance their home.
Looking at google search engine statistics alone, the terms "aluminium windows" and "aluminium doors" have only continued to create an upwards trajectory by online enquirers, indicating that both products are more popular than ever – at least in the online space!

Ideal for both heritage properties and modern builds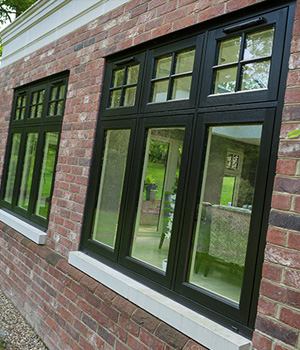 Slowly but surely towards the latter half of the 20th century, most homes started to see the many benefits aluminium windows and doors could bring to the table. Originally solely used for high-rise applications and commercial projects, modern homeowners now equally crave large light entry and slim sightlines that come with almost every variation on an aluminium window or door.
Although some common misconceptions still assume that aluminium is largely best suited to modern properties, Monmouthshire can style any aluminium window or door in such a way, that they fit in with even the most traditional of properties, thanks to the use of woodgrain foils and flush sashes. No home need miss out on the increased strength, enhanced light and glorious views that make for a modern lifestyle at home.
No more rattle, increased comfort!
Whereas aluminium windows and doors of old could sometimes be prone to rattling, letting in draughts and even rusting, modern technical advancements has made it so aluminium is one of the most reliable materials around to easily achieve an energy rating of 'A+'. Multi-chambered framed profiles successfully trap heat to help keep your home warmer in the winter without the risk of becoming to stuffy in the summer either.
What aluminium does better than any other material:
Multi-chambered frame for increased heat retention
Slim and clean sightlines for unimpeded views
Naturally strong to accommodate larger glass panels
Exceedingly low maintenance
"Secured By Design" accredited for ultimate protection
Resistant to corrosion and warping for increased lifespan




Monmouthshire: Leading the charge with Aluminium products

Monmouthshire Windows have been installing aluminium windows throughout the area for over 15 years. With a commitment to remaining professional and friendly, our customer service style is only rivalled by the quality of our aluminium windows themselves. Get in touch today for a free quote or call us on 01291 430 353.