Sash windows in Chepstow, Caldicot, Monmouth, Abergavenny, Newport and the surrounding villages.
Sash windows are an elegant part of history in the UK. Their stylish designs (that can incorporate vertical sliders and astragal bars) are small details that can make a huge difference to a house, both inside and out, helping to add real, long-term value.
Sash windows installed by The Monmouthshire Window Company are superbly engineered and of exceptional quality. Rehaus profile designs make it easy for homeowners to experience the benefits of noise reduction, low maintenance, safety, security and energy efficiency – our sash windows are capable of achieving A ratings for energy performance!
Aluminium sash windows
For state-of-the-art sash windows, opt for aluminium. Their strength allows for more glass and less bulky features. Available in any RAL colour, aluminium sash windows stay looking stylish for decades to come – they are weatherproof, energy efficient and robust.
Traditional sash window hardware
We make it easy to replicate the classic style of timber sash windows, whilst still incorporating high-performance modern materials. Choose from a range of additional decorations, including horns, deep bottom rails and Georgian bars.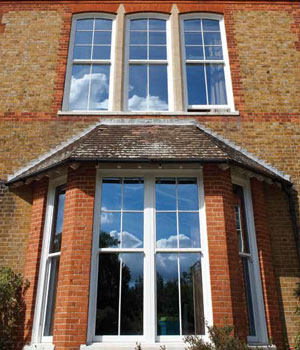 Wood effect uPVC sash windows in South Wales
Equally, there a number of different colour options to help you match your sash windows to the rest of your property: for uPVC, woodgrain finishes include Rosewood, Golden Oak and Beech, natural shades include reds and greens, and contemporary choices are white, greys or blacks. Aluminium sash windows are available in any RAL colour.
With such options, it's easy to replicate tradition with sash windows from our range – even if you want to update the windows on your heritage property. To a passerby, uPVC or aluminium replacement sash windows look identical to traditional timber versions, whilst out-performing them in terms of energy, thermal and security performance, especially when installed with Mila locks and Planitherm energy efficient glazing.
If you want to combine the best quality products with some of the most efficient installers in South Wales, then The Monmouthshire Window Company are the perfect choice to supply and install your aluminium or uPVC sash windows.